---
---
---
---
---
---
---
---
---
---
---
---
---
---
---
---
---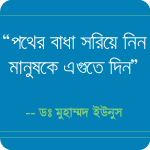 Mission:

A B Foundation has been working in the mission to serve the poorest communities. It is a non-political, secular, socio-economic, healthcare and research based organization. It has been working to help the poor communities, disadvantaged freedom fighters and the poor students.

To develop modern outlook in thinking and to reach a violence free society we are trying regardless of religion, race, creed and color.
Vision:

We have been working at rural Dinajpur, Bangladesh, for the development of education and healthcare facilities for the most disadvantaged part of our country. Our vision is giving modern education, medical care facilities and vocational training to the underprivileged children of that neglected portion of Bangladesh (450 km away from capital city Dhaka) and thus alleviation of poverty, illiteracy and creation of employment opportunities.

Besides these the foundation has a lot of works on social concerns. Among them modern education and healthcare facilities are the most important areas to us. Because, most of the peoples of that remote area cannot afford to give their children proper education and healthcare.
| | | |
| --- | --- | --- |
| | | |
Activities:

We have a school, named Amena Baki Residential Model School, at Chirir Bander, Dinajpur, having 650 students. Of these 165 students are fully resident. Students from different religion, creed and color are staying under the same roof. Computer literacy is compulsory for every student. The number of students has increased every year by 20 percent.

As a result of the academic achievements of the school, demand for admission is increasing. New school buildings and hostels are required to accommodate them.

At the Orthopedic Care, Research and Rehab Center at Mohammedpur, Dhaka we provide medical care, physiotherapy and rehabilitation for the disabled.
Goals and objectives:
Selection of the disadvantaged children irrelevant of creed, color, gender and religion providing them with modern, secular and scientific education.

Vocational training for the disadvantaged and poor women. Technical training for the rural women for self employment; thus empowering them to bring in the front line of the society.

Social mobilization on momentus issues to protect human rights like violence against women and children, human trafficking, dowry and so on.

Human development by producing productive manpower, creating self employment like poultry and farming projects etc.

Providing healthcare service in large scale. Making awareness about important health issues like sanitation, family planning, mother and child care, HIV/AIDS etc.

To preserve the memory of liberation war, providing support to the freedom fighters.

Making the world standard orthopedic and trauma care available in the country; research in the respective field; work on different related issues like awareness on road safety, proper management of accident victims are of high priority among the foundation activities.
| | | |
| --- | --- | --- |
| | | |

Future plan of the foundation:
The foundation will be commencing a community library and adult education centre on the school campus at Chirirbander, Dinajpur.

A B foundation will commence a clinic to provide healthcare service for mother and child care, HIV/AIDS prevention education.

A planned 24 hour support centre for the poor and miserable freedom fighters to provide them with healthcare support.

The ongoing road safety project is likely to be operational at a larger scale throughout the country to encourage awareness among the people to prevent accidents and make our roads safer.

Future planned projects include micro credit among the poor people of the village.
Organizational sustainability:

A B Foundation has been operational for seven years by limited financial resource at personal level, funded by the founder and the chairman of the foundation Dr Md Amjad Hossain, a renowned orthopedic surgeon in the country.

To maintain the expanding development programs, the organization now needs to seek external financial help. Future expansion is dependent on development partnership.